Just like the AFC, the NFC has some great running backs. Peterson was 1st in rushing yards in 2012, Lynch brings Beast Mode week in and week out, and Morris was just a rookie; but with the lack of depth this year you have to know where each running back ranks.
NFC West
1) Seattle Seahawks, Marshawn Lynch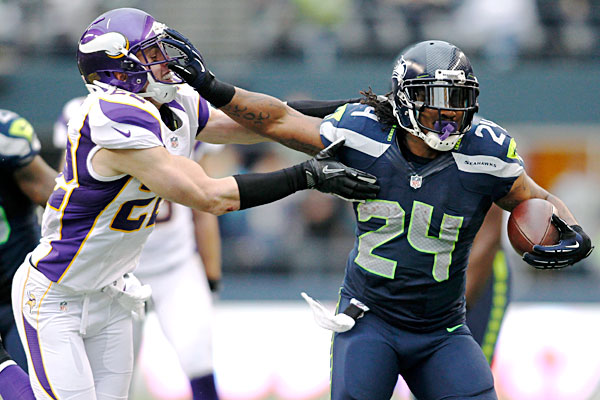 Marshawn Lynch, better known as Beast Mode, didn't bust out too many 20+ yard runs last season. However, he did average just around five yards a carry on 315 attempts. He came in 3rd last year in rushing yards with 1,590 yards and had 11 TDs. Lynch is really showing his talents in Seattle and I believe he is going to have another great season.
2) San Francisco 49ers, Frank Gore
Frank Gore is one of the toughest looking running backs in the league. He had a pretty good year coming in 10th in rushing yards at 1,214 yards. However, when Alex Smith was the QB, Gore was rushing for 5.3 yards a carry, but now that Kaepernick has taken over Gore's average rushing yards went down to 4.3 yards. Gore is still a huge factor in the 49ers offense but he is not the rusher he used to be.
3) St. Louis Rams, Daryl Richardson
Richardson finds himself taking the role of Steven Jackson and that's going to be tough. Though last year when Richardson had his chance he averaged 4.8 yards a carry. Fantasy players haven't seen much of him yet but I know we can expect him to carry most of the load for the Rams. Richdardson is most likely a flex option for most of fantasy players but if your in a large league he would be fine as an RB2.
4) Arizona Cardinals, Rashard Mendenhall
Mendenhall was with the Steelers last year but didn't play to much due to a season ending injury. The Cardinals picked him up this off season, and they are hoping to finally get a legit running back. Mendenhall was a consistent runner in 2009-2011. If he can get back to his old ways fantasy owners would be happy and so would the Cardinals, but right now it's a huge risk but he could be a great steal if he produces.
NFC East
1) Washington Redskins, Alfred Morris
Many fantasy players last year drafted Morris late in the draft just because he was listed as a starting running back. However, no one expected Morris to have a huge season, but we were all wrong. On 335 attempts Morris rushed for 1,613 yards and scored 13 TDs. He finished 2nd in the NFL in rushing yards. Look for this guy to continue where he left off in 2012.
2) Philadelphia Eagles, LeSean McCoy
Shady had a rough season last year and is hoping this year is different. Shady only found the end zone twice
last year and rushed for only 840 yards. Many fantasy players took McCoy in the 1st round last season because of his rankings. This just shows you don't always trust the rankings. With Chip Kelly running the offense now, Shady should be able to get something going.
3) Dallas Cowboys, DeMarco Murray
Murray rushed on the scene in the 2011-12, but last year was just not his year. Murray averaged a decent 4.1 yards a rush, four TDs and 663 yards rushing. Injuries got the best of this young star. If he can stay healthy he will easily go over the 1,000 yard mark this year. Keep your eyes on Murray during your draft because I think he may be ready for a big year.
4) New York Giants, David Wilson
Wilson is primed for a breakout year some people say. However, in 2012 Wilson had issues with ball security and injuries. Wilson is a speedy running back that is very tough. Wilson will be taking most of the carries this year. Hopefully his rookie year was a fluke but I wouldn't rely on him too much until we know for sure.
NFC South
1) Tampa Bay Buccaneers, Doug Martin
This rookie showed his skills last year. Martin ran for 1,454 yards on 319 attempts which gave him an average of 4.6 yards a carry. For most fantasy players last season Martin was their flex player at first, but that didn't last too long. Martin is going off the boards early this year, as many players think he can repeat last season's performance
2) Atlanta Falcons, Steven Jackson
Steven Jackson is finally on a team that is worth while. Jackson is going to love Atlanta; the pass first, run second nature should open up many holes for this guy. Jackson has rushed for 1,000 yards every year he has been in the league except his rookie year. Jackson could have one of the best seasons of his career this year.
3) Carolina Panthers, DeAnglo Williams
Williams is listed as the starter but most of us know how the Panthers use running backs. Williams and Jonathan Stewart are split most of the time. Hopefully with a new GM, the panthers will finally just focus on one running back. Williams will probably get some yards but don't look for a ton of TDs, since Mike Tolbert is still around.
4) New Orleans Saints, Mark Ingram
Ingram has had an average NFL career thus far. It's not that he is a bad runner, it's really because he plays for the Saints and they pass the ball all the time. In 2012, Ingram had five TDs and 602 yards. The Saints shuffled so many different running backs last year, Ingram didn't get a real chance. Hopefully this year with Ivory being gone, Ingram will have more of a chance to prove himself, but likely a flex option in many leagues.
NFC North
1) Minnesota Vikings, Adrian Peterson
If you want this guy in fantasy you better hope you are the first overall pick. Last season many fantasy players got lucky, because Peterson fell in many drafts due to his injury.  Well we all learned last year not to
doubt Peterson. Minnesota didn't hide Peterson at all, they gave him the ball 348 times and he rushed for 2,097 yards. Adding to the crazy amount of yards he also scored 12 TDs. This guy is a freak and deserves the number one overall pick this year.
2) Chicago Bears, Matt Forte
Forte is injury prone as we all know. He rushed for 1,094 yards last year, but was injured as well. If this guy could only stay healthy he would easily be a top 5 RB in fantasy. If your willing to take the risk there could be a huge reward, but don't rely on him to be your number 1 running back this year.
3) Detroit Lions, Reggie Bush
Bush is now with his 3rd NFL team and a long ways away from his Heisman years. Last year Bush rushed for 986 yards, scored six TDs and averaged 4.3 yards a carry. I would like to think Bush is going to hit 1,000 yards this year in Detroit, but he may split some carries. Keep an eye on him when drafting.
4) Green Bay Packers, Eddie Lacy
Lacy is a rookie but as many football followers know he was a beast at Alabama and the focal point of that offense. He was drafted by Green Bay, and they are pass first offense so Lacy won't be the primary focus of the offense. Lacy is a 230 pound running back, and could be used as a goal line back. Expect a good amount of yards but his fantasy points are going to come from TDs.