The 2013-14 English Premier League season is underway! During the season Sports Unbiased will select our EPL Match of the Week, where we will preview, break down, and predict some of the biggest matches in the Premiership.  
PREVIEW: What a difference a couple of months make! Eight weeks ago Arsenal were riding into Merseyside (feeling good about themselves as they sat atop the Barclay's Premier League table) only to suffer a humiliating 5-1 defeat to Liverpool. Now they head back to Merseyside barely hanging on to fourth place. The team that's hot on their trail? That would be Everton, the other Merseyside club, who will be hosting Arsenal on Sunday. Everton are just four points back of the Gunners with a game in hand. Needless to say, this match could potentially decide who finishes in the top four this season (and assure themselves of Champions League football next season).
MANAGERS: It's hard to blame Arsenal's slide the past two months on Arsene Wenger, given the amount of injuries the club has suffered. But it's been nine years since Wenger has lifted a trophy of any sort and the fans' patience is growing very thin. While Liverpool manager Brendan Rodgers has been applauded for his work this season, what Roberto Martinez has done with Everton should not go unnoticed.
Advantage: None
FORWARDS: Not much to separate between the two clubs here. Neither side possess that world-class striker that one can count on to score goals with regularity. If only Arsene Wenger had been able to pry Luis Suarez away from Liverpool at the start of the season. Instead he has only Frenchman Olivier Giroud to rely upon up front, and though he has done his best with 13 league goals, Arsenal need better production if they want to compete for the league title. Everton's leading scorer Romelu Lukaku (on loan from Chelsea) has slowed down after a hot stretch. He has a dozen league goals to lead the club.
Advantage: None
MIDFIELDERS: Aaron Ramsey (right) should be available for this match, which is good news for Arsenal. He will help a midfield that has been ravaged by injuries. Also, pay attention to the play of Tomas Rosicky. The Czech has played well since in the absence of Ramsey, Jack Wilshere and Mesut Ozil (why doesn't Arsene Wenger give him more of an opportunity?). Everton's midfield is intact. Martinez' players may be young, and not the biggest names in the league but they are full of promise and potential. Ross Barkley (age 20) is a future star! Everton should have the advantage here, seeing that they have less injury concerns than the Gunners.
Advantage: Everton
DEFENDERS: Is there a better defensive pairing in the league than Thomas Vermaelen and Laurent Koscielny? Add in Per Mertesacker and Bacary Sagna and it Arsenal can boast having one of the better collection of defenders in the league (fourth in goals allowed). Everton are currently third in goals allowed however credit that to Roberto Martinez' overall philosophy. Everton are not blessed with world-class players like the bigger clubs (such as Arsenal) so they have to grind away to get results.
Advantage: Arsenal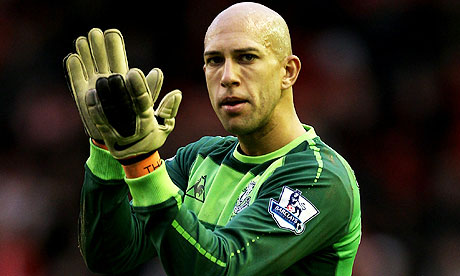 GOALKEEPERS: Arsenal goalkeeper Wojciech Szczesny continues to improve and should be a good one for years to come. Everton counters with veteran keeper Tim Howard (right) of the United States. Slight edge to the 35-year old based on experience. Still one of the better keepers in the world.
Advantage: Everton
X-FACTORS: Arsenal are one of the better clubs on the road this season, but what happens when they travel to play some of the top clubs in the league? In matches at Liverpool, Manchester City and Chelsea, they have been outscored 17-4! Now, they are travelling to Goodison Park where Everton have lost just once all season long. Everton however lack the talent of the aforementioned clubs and are going to need someone other than Lukaku for goals. Kevin Mirallas and Steven Naismith spring to mind.
Advantage: None
PREDICTION: It's hard to ignore Everton's excellent home record this season. It would be a difficult task for Arsenal had they been at full strength. Unfortunately they are not and it may hurt them in this one. While no one should expect the type of result that the Gunners suffered the last time they visited the Merseyside, it will be a costly three points dropped nonetheless. Expect a narrow Everton victory as they continue to snap on the heels of their rivals for fourth place in the league.
Final Score: Everton 1 (Lukaku) – Arsenal 0
Who Will Win Our EPL Match Of The Week?
Everton (0%, 0 Votes)
Arsenal (0%, 0 Votes)
Total Voters: 0
Loading ...