The 2013-14 English Premier League season is underway! During the season Sports Unbiased will select our EPL Match of the Week, where we will preview, break down, and predict some of the biggest matches in the Premiership.  
MANCHESTER UNITED vs LIVERPOOL
PREVIEW: The two most successful clubs in English football history are set to clash this Sunday as Liverpool travels to Old Trafford to face defending champions Manchester United. It has been a disappointing season for United under new manager David Moyes. Not only will they not defend their title, but a top-four finish also looks unlikely. Liverpool on the other hand are suddenly title contenders again, as manager Brendan Rodgers has his men in the thick of the title race in just his second year in charge. Can Liverpool continue their amazing run towards their first league title since 1990, or will United strike a devastating blow against their long time rivals?
MANAGERS: Brendan Rodgers should be favorite for Manager of the Year for the work he has done this season. At the start of the season, the goal was simply to finish top-four. Now the club is aiming much higher, as Rodgers has put together the most lethal attacking club in the league. David Moyes sometimes gets unfairly criticized for United's poor performance this season, however he sometimes feel like he is still managing Everton instead of a club with the prestige and resources as United.
Advantage: Liverpool
 FORWARDS: Wayne Rooney is playing great once again, but Robin van Persie does not look like a happy man under Moyes and his performance seems to have suffered as a result. This is not the same player who carried the club towards the title last season. It would be tough to rate them ahead of Liverpool's duo of Luis Suarez and Daniel Sturridge this season even if Van Persie was at his best. Suarez and Sturridge are first and second respectively in league goals this season as both strikers have flourished under Rodgers' system. The duo have combined for 42 of the club's league-leading 73 goals. United as a club have scored 46 goals total! Suarez also leads the league in assists.
Advantage: Liverpool
MIDFIELDERS:
 Even with the addition of Juan Mata from Chelsea, United's midfield looks below average. And other than Mata and young winger Adnan Januzaj, there is not much in the United midfield to get excited about. On the other hand, youngsters such as Jordan Henderson and Raheem Sterling in particular have made tremendous strides this season. But perhaps the key to Liverpool's midfield is the veteran Steven Gerrard playing a deeper midfield role, allowing the energetic Henderson to venture forward more often in support of the forwards.
Advantage: Liverpool
DEFENDERS: For a club contending for a league title, Liverpool's defense can be downright horrid! It is a reason why many pundits believe that they will not win the league over the likes of Chelsea and Manchester City. United's defense is not much better (they have conceded just four fewer goals than Liverpool) but Liverpool fans would swap Nemanja Vidic for Kolo Toure every day of the week.
Advantage: Manchester United
GOALKEEPERS: Both Simon Mignolet and David de Gea are young and have potential to be better as they gain more experience. Both have had their struggles at times, particularly when it comes to commanding their areas during set-pieces but both are also great when it comes to stopping shots.
Advantage: None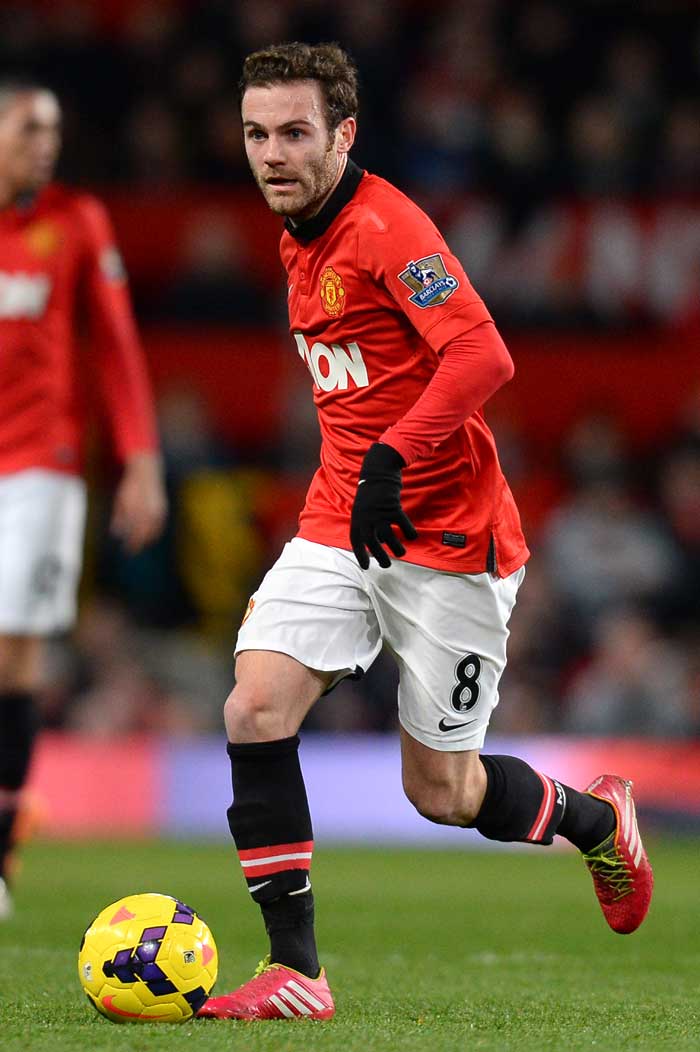 X-FACTORS: Brazilian midfielder Lucas Leiva is scheduled to return for Liverpool and should be available for this match. Should Rodgers play or even start him? His presence should help improve the club defensively, but would the manager risk messing up the chemistry in midfield? The x-factor for United in this match is Juan Mata. Getting the Spanish playmaker has been one of the few things that Moyes has gotten right this season. The club has played better since his arrival, winning five of six matches. However could he possibly be a defensive liability against the league's best offense? His lack of defensive committment was a big reason why he was allowed to leave Chelsea in the first place.
Advantage: None
PREDICTION: This should be a high-scoring affair. Liverpool knows how to play one way right now, and that is uptempo, aggressive football. Their attitude is, if the opponent scores three goals against their sieve-like defense, they'll simply score four goals. Unlike seasons past, Liverpool will be entering Old Trafford with very little fear as they are a side in better form. David Moyes' men will put forth a strong effort in front of the home supporters, but with one eye on their Champions League home match on Wednesday will he even field his strongest side?
Final Score: Manchester United 2 (Rooney, Van Persie) – Liverpool 4 (Sturridge, Gerrard, Suarez x 2)
Who will win our EPL Match of the Week?
Manchester United (0%, 0 Votes)
Liverpool (0%, 0 Votes)
Draw (0%, 0 Votes)
Total Voters: 0
Loading ...