The 2013-14 English Premier League season is underway! During the season Sports Unbiased will select our EPL Match of the Week, where we will preview, break down, and predict some of the biggest matches in the Premiership.  
LIVERPOOL vs ARSENAL
PREVIEW: Arsenal has regained the lead in the English Premier League race thanks to their 2-0 home victory over Crystal Palace. Unfortunately the Gunners have very little time to rest on their laurels as they face a very difficult part two-week stretch that includes matches against Liverpool (one league; one FA Cup), Manchester United, and Bayern Munich (Champions League Round of 16 first leg). It starts on Saturday with a trip to Anfield and a date with fourth-place Liverpool. Liverpool will not be only looking to avenge their 2-0 defeat to Arsenal earlier in the season, but to solidify their hold on fourth place – and Champions League qualification for next season.
MANAGERS: While his resume might pale in comparison with Arsene Wenger's, Brendan Rodgers has shown he is a very good manager and has Liverpool heading in the right direction (though we still don't understand his continuous tinkering of the formation or his insistence of playing with three at the back). That being said, it is tough to go against the Arsenal manager here.
Advantage: Arsenal
FORWARDS: Arsenal has lacked a consistent threat up front all season long. Olivier Giroud has cooled off recently, Theo Walcott is out for the season, and Lukas Podolski can't seem to find himself on the field (for reasons known only to Wenger). No such problem for Liverpool! Luis Suarez continues to terrorize defenses all over England (his 23 goals leads the league) and his strike partner Daniel Sturridge has picked up right where he left off since returning from injury. Arguably the best duo in English football.
Advantage: Arsenal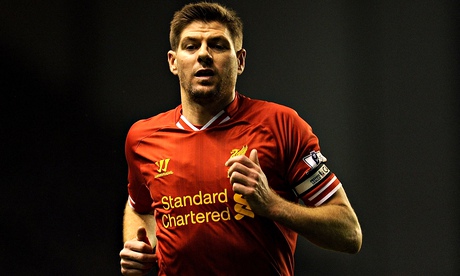 MIDFIELDERS: The last time these two teams played, we gave a decided advantage to Arsenal's midfield. This time we believe Liverpool has closed the gap. Both skipper Steven Gerrard  and Philippe Coutinho are healthy and playing well, Jordan Henderson has flourished as the workhorse, and youngster Raheem Sterling continues to gain confidence with more playing time. However, defensive midfielder Lukas Leiva will be missed. Arsenal's midfield has not been as dominant as it was earlier in the season thanks to injuries to both Aaron Ramsey and Jack Wilshere. It has left a toll on Mesut Ozil, who is not having the same impact he did when he first joined Arsenal from Real Madrid.
Advantage: None
DEFENDERS: Defense has been an issue for Brendan Rodgers' men all season long. Some of it is due to injuries, but a lot of it is also due to carelessness (Kolo Toure's blunder against West Brom Albion last week the latest example). Their lapses have seen Liverpool dropping silly points that may come back to bite them come the end of the season. On the other hand, Arsenal has become one of the better defenses in the league (only Chelsea has conceded less goals).
Advantage: Arsenal
GOALKEEPERS: First-year Liverpool goalkeeper Simon Mignolet can be quite an adventure in goal, mixing outstanding saves with head-scratching decisions. We still think that the 25-year old Belgian will grow into an excellent keeper. However Wojciech Szczesny seems to be ahead of the curve. Wenger took a small gamble on a 20-year old three years ago and it has paid off as Szczesny continues to show poise and a great command of his area.
Advantage: Arsenal
X-FACTORS: Without Wilshere and Ramsey out injured someone needs to step up and provide Ozil with some help. It won't be Mathieu Flamini (currently serving a four-match ban), so we will go with Mikel Arteta. Our x-factor not only needs to help Ozil link up with the forwards, but will also need to have a good match defensively – particularly against Liverpool's playmaker Coutinho. For Liverpool, someone has to step up defensively. We will pick Kolo Toure because he is one of the veterans of the group. Plus he should be motivated to play well against his former club – as well as to atone for that blunder against WBA.
Advantage: None
PREDICTION: Liverpool has the third best home record in the league (just one defeat at home) and are averaging almost three goals at home while Arsenal has the joint best away record (eight wins in twelve matches) so something has to give. Liverpool are usually ultra-aggressive at home, so the match should be an open one with several goal-scoring opportunities. Two other factors to consider here. Arsenal seem to have more key players missing than Liverpool, and despite their excellent road record the Gunners have not fared well when playing other big clubs away from home. Add to that the tough schedule that Wenger has to navigate (unlike Arsenal Liverpool have no midweek European matches to worry about) and this could be a perfect opportunity for the Reds to throw their hats back into the title race – and not just a top four finish.
Score: Liverpool 3 (Gerrard, Suarez, Sturridge) – Arsenal 1 (Giroud)
Who Will Win Our EPL Match Of The Week?
Liverpool (50%, 2 Votes)
Arsenal (25%, 1 Votes)
Draw (25%, 1 Votes)
Total Voters: 4
Loading ...